Shared from South Side Antifa http://southsideantifa.blogspot.it/2015/11/crytal-lake-il-neo-nazi-axel-salemi.html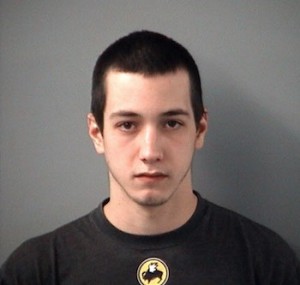 Crystal Lake IL: Neo Nazi Axel Salemi Accused of Squeezing Kitten to Death
According to the Chicagoist, Axel Salemi of Crystal Lake, IL is Currently in the McHenry County Correctional Facility for allegedly killing a kitten with his bare hands. What they don't mention however is that Axel is a proud neo-nazi. His Facebook profile features confederate flags, deaths head skulls, and is where you can find him saying racist quotes such as; "we fly the swastika! we fly it strong and true! we ain't never gonna take it down for the communist or jews!". At the time of his arrest he was a server at a Buffalo Wild Wings. He appears to still be employed at the McHenry location (3343 Shoppers Dr. The Shops at Fox River McHenry, IL 60051-5405).
Taken from Chicagoist.com:
An 18-year-old Crystal Lake man is facing felony charges after police say he killed a kitten with his bare hands.
Police say Axel Salemi killed a 7-week-old kitten with his bare hands, squeezing it to death while he was "in an agitated state of mind," The Daily Herald reports. The alleged killing occurred at Salemi's home, which serves as a rescue shelter for kittens. Police were called to the scene Friday afternoon at 2:30 p.m. on the 100 block of Briarwood Circle. Salemi was arrested at his workplace, Crystal Lake Patch reported.
Salemi now faces two felony charges: aggravated animal cruelty and criminal damage to a domesticated animal, according to the Tribune. He appeared in court Saturday where his bond was set at $20,000. He's currently in the McHenry County Correctional Facility.
Court records dug up by the Tribune show he was charged with domestic battery and consumption of alcoholic liquor by a minor in March. A complaint alleged that Salemi punched a woman in the nose and mouth and grabbed her neck. He ended up pleading guilty to a lesser charge of disorderly conduct. He was placed on court supervision, which was supposed to end next June.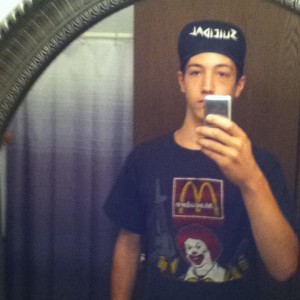 Axel Salemi
40 Briarwood Cir
Crystal Lake, IL 60014-3922
815-526-3292
https://www.facebook.com/axel.salemi.3