We feel it is necessary to again point out examples of fascists attempting to infiltrate the vegan/non-human animal liberation, straight edge and environmental movements. This problem is spread out across the globe as fascists seek to gain popularity and maintain a platform by expressing themselves as "compassionate" and/or concerned people. Most of the time fascists or fascist sympathizers attempt to hide the atrocities done by fascism historically and presently by accusing anti-fascist vegans of being divisive and "distracting people from the REAL problems of non-human animal oppression". While yes, the suffering and oppression of other animals is in fact a REAL problem, the attempt to defend or ignore the presence of fascists in the movement is detrimental and creates an unsafe environment for everyone. Below is an article shared by vegan anti-fascists exposing Italian fascists who almost flawlessly disguise themselves as legit anti-speciesist anarchists.
This article was translated and shared from http://xsvax.blogspot.ro/2012/09/action-antispeciste-et-fasciste.html
Here is a warning about Italian Autonomous Nationalists conducting antispécistes actions and endorsing the same visual of Antispé / German Antifas. They resume again the flags of the Antifascist Action, and will even hijack the "A" ALF in "ANS"
They go on to promote themes like feminism, antispécisme, social struggle, anti-capitalism, in a modern style "that eyeful" feature to NA, but all of this wrong because it is merely a pretext for their nationalist ideology.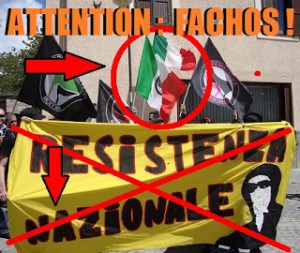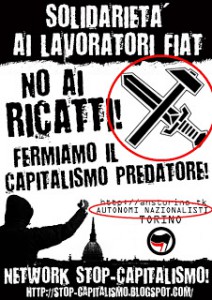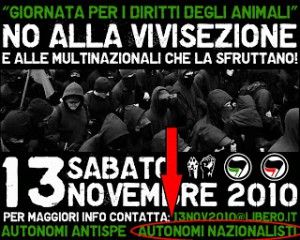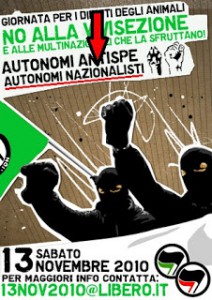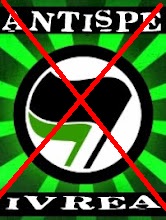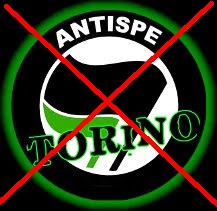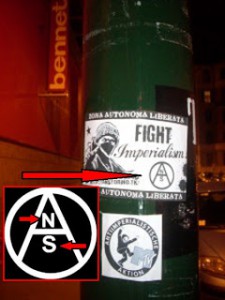 Let us not be fooled by the fascists disguised as revolutionary or progressive activists. That is why it is important to keep animal liberation anti-fascist, and to recognize our enemies when they try to imitate us.
Do not let the fascists make our struggles harder to destroy them.
Never allow fascists room anywhere!
For animals:
VEGAN and ANTIFA
x Sektion VEGAN ANTIFA x